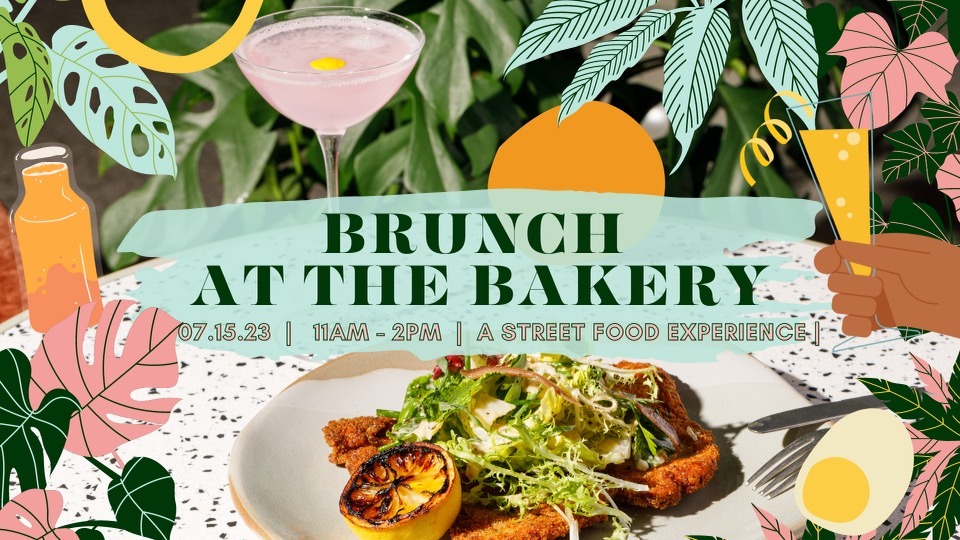 Brunch at the Bakery
Brunch at the Bakery
Join us for a special street-food experience on July 15th 11am- 2pm for brunch on our patio!
The street-food food traders at Bakery District have collectively come together to serve you up a Summertime feast, alongside live music and local traders.
Don't miss out on this all-inclusive menu with bite-sized brunch items and mimosas.
🥂 1 x ticket will allow to all the dishes and drinks from our all-inclusive menu 🍳
Vinnie's Pie's Flatbread pizza with fresh avocado, tomatoes, soft-boiled egg, chipotle ranch drizzle and cilantro
Lily's Sandwich Shop's Mediterranean Kabab served on pita bread with lettuce, tomato, onion and tzatziki
Farmers Market Direct's Chicken and Waffles
Shobo's Nacho Fries
Plant-Faced, Vegan Cinnamon Roll Ice Cream
Fraiche Bar's Juice Twin Taster
+ 1 x Mimosas from The Bakery Mimosa Bar
+ Entertainment + local shopping 🎉
There will also be entertainment from local signer Troy Edward Marlin and some local traders who will set up on the day (TBA)
🎟️Save your seat for this one-off experience for $30. 👧 Kids tickets available at $15 with a mini menu of pizza, chicken and waffles, and a sno cone from North Shore.
We have limited tickets for this event, so secure your spot! Follow the ticket link posted at the top of this event ☝