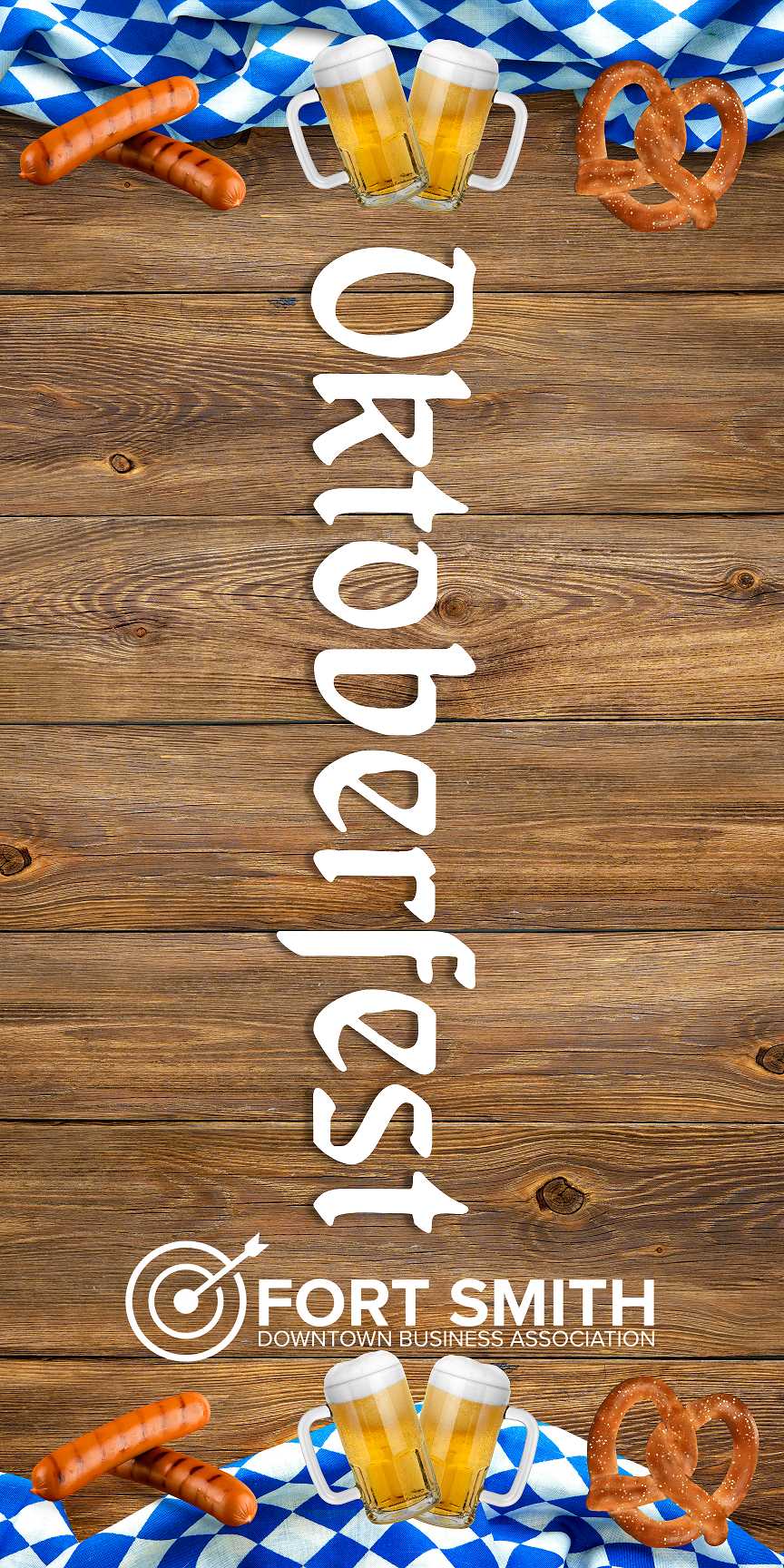 Oktoberfest – Downtown Fort Smith
OKTOBERFEST – Saturday October 15TH
The Bakery District and all of DOWNTOWN FORT SMITH
PERFORMANCES:
Alan Burdick – Oom-Pah Music @ FNB Parking Lot – 1pm to 3pm, The Mystical Witches – Dance Performance & Cackle Contest @ FNB Parking Lot – 4pm-6pm, Community School of the Arts @ FNB Parking Lot – 3pm to 4pm, Harvest Market @ FNB Parking Lot from 1pm-6pm
VENDORS:
Sandy's Sweet Shop, David's Honey, Sacred Earth (handmade jewelry), Cathy Scalf – Breads, pies & pickles, Charlotte Franklin – Gluten Free Products, Ankhomomics – Jewelry & Lotions, Sandy Lawrence (pies & cinnamon rolls), Johnson's Jams & Jellies, Thattle Dew Farm – Mobile bouquet bar, Bits & Pieces – Home made Candies & Brittles, Bounce Around, Face Painting, And much much more . . .
OTHER EVENTS DOWNTOWN:
Farmer's Market @ Second Street parking lot -7am to 12pm
8AM-12PM – Face painting by the Future School of Fort Smith
9AM-11PM – "Cops with Coffee" will bring their van that kids can paint on (it's all washable and the cops will be there with donuts and coffee to oversee the activity)
8AM- 11:30PM – Scavenger Hunt on the Farmer's Market premises with prizes
7AM- 12:00PM – Candy Bags for the kids given out by the vendors
Sunrise Yoga @ the Bakery – 7am, Fall Patio Pop-up @ the Bakery from 10am-2pm, Storytime @ Bookish – 11am, Fort Smith Museum of History (more details to come), Meet the Author Ginny Myer Sain – 4pm, Maple Room Pub Opens @ Bakery from 10am to 2pm, 3rd Street Block Party @ 3rd & Garrison, Fort Smith Symphony After-Party @ the Bakery – 8pm, Black Market Night Artisan Market @ Second Street parking lot – 7pm to 10pm,
PARTICIPATING IN PUB CRAWL (10AM-2AM)
Entertainment District commemorative cups available at all locations so you can enjoy the full experience of Oktoberfest!
Arlie Muck's, Hero's, Papa's Pub & Pizzeria, Neumeier's Rib Room, La Huerta Mexican Restaurant, R. Landry's New Orleans Café, Old Town Grain & Feed, Bricktown Brewery, The Majestic, Club Kinkead's, Tipsy's Pub, Ben's Hookah Lounge, The Bakery District, Prohibition